What are tips for running Cut To Length Machine?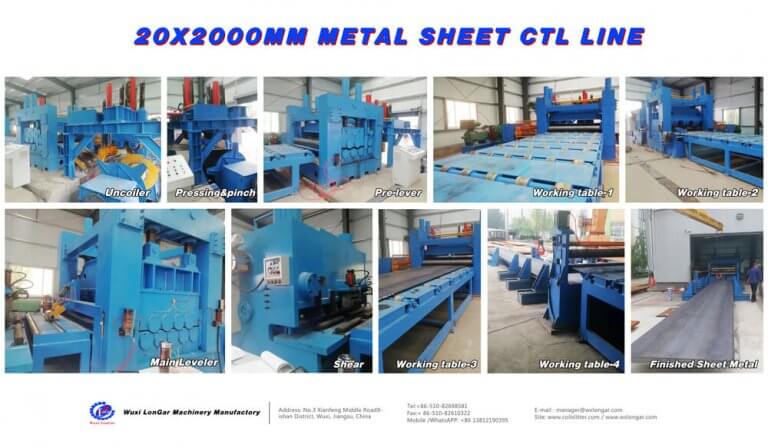 Cut To Length Machine uses the working principle of multiple rollers, repeatedly deforms the sheet between the upper and lower working rollers, to eliminate stress and achieve the purpose of leveling.
On the outer side of the upper and lower rows of working rollers, rigid supporting rollers are arranged to form 4HI or 6Hi roll-group structure. The sheet metal is leveled by a straightener, which can significantly improve its flatness and improve the quality of the workpiece. Straighteners work independently for the leveling of a single sheet; can also be the whole assembly line with uncoiling, guider, shear, stacker, etc. It can be connected to a production line with complete performance through the control system to perform processing on metal coils. Leveling and slitting.
Cut To Length Machine mainly depends on raw material thickness, material type, and requirements of the strip. The thicker the material, the better the structural rigidity required, the fewer the number of rolls, the larger the roll length, the greater the power, and vice versa.
CTL machines work various CR, HR, SS. Al etc coils or sheet. Operate conveniently and simply, use widely covers many industries such as machinery, metallurgy, building materials, chemicals, electronics, electric power, light industry, etc., especially in shipbuilding, rolling stock, boiler bridges, metal structure factories, and other industries, becoming indispensable in production Essential products.
The control system is divided into ordinary PLC type and touch numerical control type, flexible choice. PLC control imported electrical components, the user program does not need another battery to maintain, and will never be lost.
According to the different bases, it can be divided into standard type and revolving type. The two sets of heads can operate separately or simultaneously.
Various functions such as manual, automatic, half-cycle, full-cycle, etc. can be arbitrarily selected. The mobile foot switch has three functions: automatic start, emergency stop, and emergency stop continuous, with high safety.
Different bending radii can also be processed at the same time, with a wide range of applications.
The leveling machine has a strong clamping capacity and processing. Multiple parts can be processed at the same time, circular operation, high efficiency.
Exquisite appearance, simple design, providing a large opener space. The space-corner head can be processed by 90 degrees inside and outside, which makes the processing more flexible and the range of leveling machines is wider.
Contact Us . If you have any question, please dont hesitate to contact us . We can send you more excellent case pictures and videos . We also will definitely give you best answer.