Supermarket Storage Shelf Rack Stud And Track Roll Forming Machine
Good quality automatic storage rack shelf roll forming machine form making metal stud and track. Low price and good service.
  Coil inner D.      (p450mm-(p530mm
  Thickness                    0.4-1.6mm
  Straightener roller       7 pcs
  Power                            1.5kw
Supermarket stud and track production line
Roll forming machine for production :
metal stud
track for rack shelf
pallet stud
upright shelf
rack shelf
metal frame
Stud and track roll forming machine production line process:
Uncoiler straightener 2 in 1 →Servo feeder→ Guide device → roll forming machine →shear device (including knife)→ finished product rack
Layout as below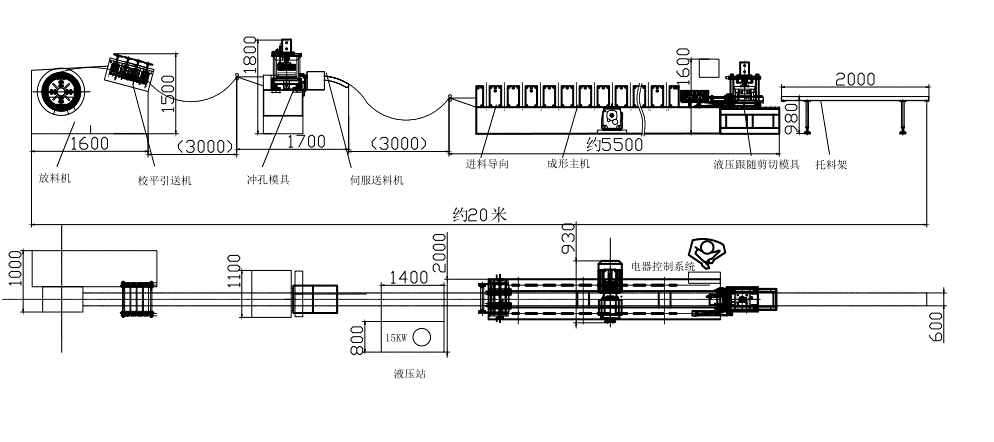 2 in 1 Uncoiler   straightener
Passive   discharge
Coil weight:<   2T
Coil inner D.:φ450mm-φ530mm
Max. Width.200mm
Thickness .0.4-1.6mm
Straightener roller :7 pcs
Power.1.5kw

Max. feeding width:200mm
Feeding thickess: 0.4-1.6mm
Motor , 0.85KW(Yaskawa)
4.Hydraulic Hole Punching System
Function:Hydraulic punch breach
Structure: set the length, automatic length measurement, automatic positioning reaches the set distance stop action , hydraulic cylinder driven punching die, stamping automatic shutdown
Hydraulic system working pressure:16MPa
Hydraulic station:11KW( Hydraulic punch hole/shear use same station)
5.Guide Device (Main Forming Machine )
Forming Roller:20 stations,and add Rub-roll, To make sure the surface profile no scratches.
Side Panel:T.18mm ,A3 steel   Heavy duty 。
Rolling speeding: 2-8 m/min。
Roller material:#75,overall quenching, hardness HRC56-62 ℃.
Motor power:7.5KW。   
Main Roller :¢95mm,45 #。
Equipment base: 45 # H type using welded steel plate.
Transmission: chain drive.
Security: across the board with emergency stop buttons, easy to handle emergencies, to ensure that equipment and operator safety. And other gear in the chain and the staff could easily lead to injury transmission section covered with protective cover, to ensure the safety of workers.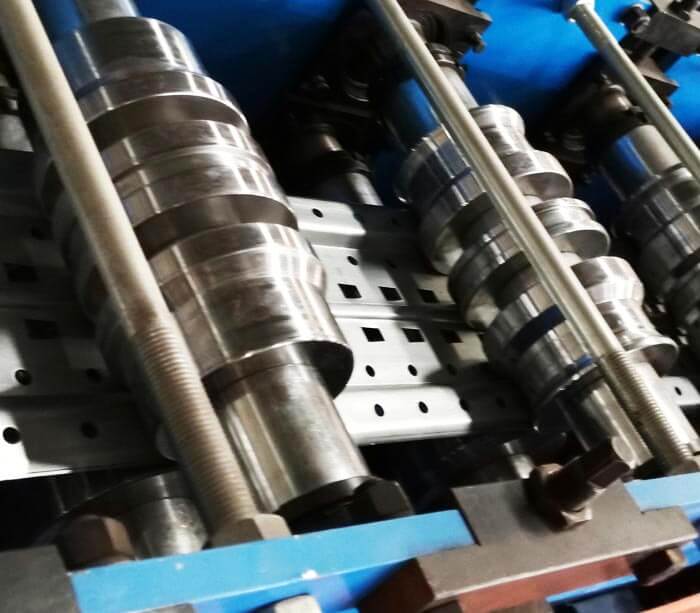 7.Electrical Control System
    The entire line imported PLC control, LCD touch screen, man-machine interface. People interact with the PLC. Operator setting the program to run automatically (programmable control) and control process monitoring, production line operator control and modify the control parameters, and real-time monitoring the equipment status & parameters and fault indication. Workpiece length digital setting, adjustable length can be adjustable as well. Real-time monitoring of equipment operating status and fault indication.
    Operation manual / automatic two styles. With manual and automatic switching function: In the manual mode, can be stand-alone operation, easy maintenance; In automatic mode, carry out full production run, in order to start; across the board with emergency stop buttons, easy to handle emergencies, to ensure that equipment and operating personnel Safety.
Equipment for production storage rackk shelf stud and track.
Different types of rack shelves have different characteristics, a good shelves have the characteristics of perfect assembly, large carrying capacity and strong stability. The shelf stud and track material is made of cold roll steel. The gallery-style shelves are designed to store a large number of similar pallet goods, also called channelless shelves. Pallet shelves are commonly used in places where storage space is expensive, such as frozen warehouses. Suitable for storing large quantities, small variety of goods, batch operations. The smallest amount of space is available to provide maximum storage. It is suitable for large-volume, low-volume cargo storage operations.
The forklift can directly enter the cargo lane to access the cargo, which is extremely convenient. Storage rack shelf stud and track made by roll forming process is high efficiency production rate and safety operation.
9.Devices steel stud and track production line machine list
| No. | Machine name | QTY | REMARK |
| --- | --- | --- | --- |
| 1 | Uncoiler straightener | 1 | |
| 2 | Servo Feeder | 1 | |
| 3 | Hydraulic machine | 1 | With mould |
| 4 | Guide device | 1 | |
| 5 | Forming machine | 1 | |
| 6 | Follow Shear | 1 | Including knife |
| 7 | Collect rack | 1 | |
| 8 | Control system | 1 | |
10.Rack stud and track machine accessories brand
| No. | Name | Manufacturer |
| --- | --- | --- |
| 1 | Motor & Reducer | Domestic brands |
| 2 | The main key bearing | Domestic brands |
| 3 | Inverter | Taiwan Shilin |
| 4 | PLC Systems | Siemens |
| 5 | Low-voltage electrical | Schneider |
| 6 | Encoder | Omron |
| 7 | Touch screen | Siemens |
| 8 | Hydraulic system | Domestic brands |